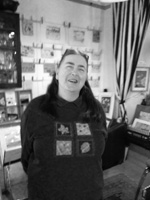 Welcome to my 2020 Open Studio Exhibition

This year it is in the virtual form and
instead of you visiting us in the front room
at Harbourhead in Cellardyke,
you found me on line.

As this turned out to be my only exhibition
for this year, I have been able to include
more oil paintings.

Wishing you a very Merry Christmas and
Healthy 2021 with lots of Happiness.